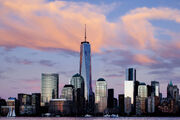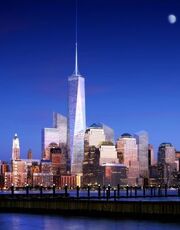 1 WTC originally dubbed as the freedom tower, It is currently the tallest building in the Western Hemisphere. The tower is 546 meters in pinnacle, and 541 to spire. The tower was going to be a diamond shape on its top, many various heights are proposed.
In 2002, developers want to bring back the world trade center by a new tower that would be 541 meters, calling it as the freedom tower. while the other world trade centers are diamond shaped top. However, one year later, The tower increased to 650 Meters. The tower was redesigned in 2004, It would have a twist, and it would are been 600 Meters to the spire. Later went its one spire only, a right tangle shaped like design antenna. Then in 2005, the freedom tower is entirely redesigned, decreased it's same height as the 2002 freedom tower design. Construction started in 2006, in 2010, the white spire is now black, It was completed in July 2013. it was opened in November 2014. it's observatory was opened in 2015.
See Also
Edit
References
Edit
http://ny.curbed.com/archives/2014/10/29/one_world_trade_centers_observation_deck_unveils_pricing.php
Community content is available under
CC-BY-SA
unless otherwise noted.