Abraj Al Bait or the Mecca royal clock hotel tower, is currently the 3rd talllest building in the world. It has a large complex of buildings and a 601 Meter high tower, the clock hotel tower has the worlds largest clock face. The orginal design of it doesn't have the giant clock face, later, a new design that showed the clock face. It was to be less than 600 meters, however the building finally increases to 601 Meters, it is now surpassed by the Shanghai Tower.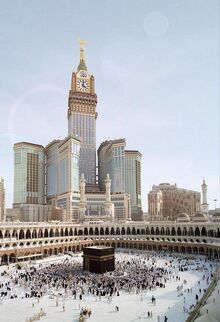 See Also
Edit
List of the tallest buildings in the world
Community content is available under
CC-BY-SA
unless otherwise noted.